When Should I Get an Alignment with Kia Service in Albuquerque, NM?
Have you been wondering if your car, truck, or SUV needs an alignment? If your answer is a definite yes, then you first need to look closely at your tires. Uneven tread wear, frequently more on the outer or inner tread, is a big indicator that your vehicle is probably out of alignment. A few more indicators are as follows:
The steering wheel vibrates.
You're driving straight, but the steering wheel isn't centered.
Your vehicle is pulling or drifting to one side, even when driving straight, especially if you let go of the steering wheel.
If none of these are occurring, but it's been some time (or never!) since your last alignment, check your car's owner's manual to learn how often the manufacturer advises having this service done. When you're ready, bring it to Fiesta Kia for Kia service in Albuquerque, NM.
How Did it Happen?
A vehicle that's out of alignment is an expected consequence of everyday driving. However, the actual alignment doesn't refer to the car's wheels but the suspension. With average daily driving, suspension components can become worn, and springs can become stretched out. Potholes, a minor fender-bender, and even bumping a curb can mess up your suspension, causing any of the highly calibrated parts to become askew, thus making the wheels improperly angled. By restoring these angles to the correct settings, an alignment ensures the wheels are set straight.
Less tire wear is the most noticeable benefit of an alignment, which saves you money. As time progresses and the tires wear down normally, they'll do so evenly with a properly aligned suspension. Tires can be expensive, with prices easily reaching $100 or more per tire. On the other hand, an alignment usually costs around $85 to $150 (or more for all four wheels), making it an economical procedure that should be a part of regular maintenance.
Get an alignment to ensure your car stays straight and handles correctly, thus making your drive safer! An extra benefit is better gas mileage since the tires will function correctly, decreasing resistance.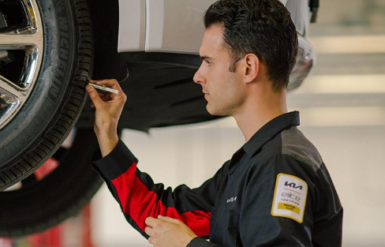 Kia Service in Albuquerque, NM: Getting an Alignment
Vehicle alignment is a complex procedure that returns the car's suspension to its correct configuration by adjusting and positioning all components, so the wheels align with one another and the road beneath them. It should be done by an ASE-Certified Technician/Mechanic who uses a professional alignment machine, which you will get at Fiesta Kia.
Modern alignment machines use clamp-like tools which attach to the car's wheels once the vehicle is raised on a lift. These devices are computerized to take precise measurements and adjust accordingly. At this time, the technician will also check for broken or excessively worn suspension components.
The alignment is essentially squaring the vehicle's wheels and axles, so they all move in the same direction. Our techs will adjust the various suspension angles (camber, caster, thrust, and toe) that influence tire position and movement while ensuring the steering wheel is centered and balanced.
Kia and every other automaker define their particular angles for alignment, which are specified in degrees. If you drive a high-performance vehicle, your suspension can even be aligned to improve tire performance and handling.
Need an Alignment?
Call or set up your appointment using our online scheduler, then bring your car to Fiesta Kia for Kia service in Albuquerque, NM. We're located at 7400 Lomas Blvd NE in Albuquerque, NM, 87120. Don't forget to check out our service specials that save you money on the services you need… batteries, brakes, oil changes, tires, tune-ups, and more!