​​​​​​​The Future Looks Bright for 2024 Kia Vehicles near Rio Rancho, NM
The last few years have been excellent for Kia in terms of sales and awards for their innovative and affordable line of vehicles. Looking to the future, many of us are wondering what is in store for 2024 Kia vehicles near Rio Rancho, NM.
As more American drivers buy crossovers and SUVs, sedan sales continue to decline. However, at Kia, there are still four excellent sedan models for sale in the US lineup. We're pleased that Kia still believes in the sedan and will continue to produce stylish and dependable sedans with many standard features and technology, even in the lower models.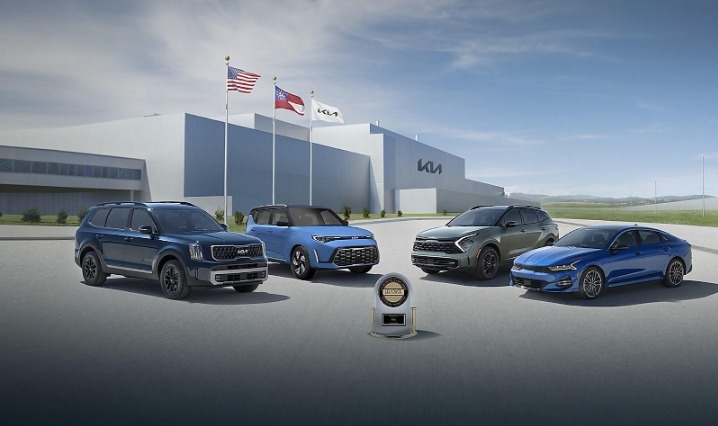 2024 Kia Vehicles near Rio Rancho, NM: Sedans
You can find sedans in Kia's lineup that range between just under $17,000 to $50,000, and this even includes a rear-wheel or all-wheel drive performance sedan, which is not common outside of more expensive European brands. The focus is on style, value, and equipment levels, with a generous warranty that seals the deal for many shoppers. The expected models for the upcoming year include the following:
Rio – The subcompact Rio starts at a very affordable $16,750 and is also available as a 5-door hatchback. It combines a cute appearance, modern technology, good handling, and excellent fuel economy.
Forte – A considerable value for a compact sedan, the Forte brings good fuel economy, great tech features, and good looks for a low price. You'll enjoy a roomy interior and cargo space, and there's even a turbocharged option in the various trim choices.
K5 – Replacing the Optima, the K5 competes with the Honda Accord and Toyota Camry, and although it may not rank as high in sales, it certainly rivals them in the quality of the product. A plush cabin, competitive pricing, and numerous standard features make the K5 a standout. The great fuel economy only adds to its attraction.
Stinger – Unfortunately, the incredible Kia Stinger will say farewell after 2023. With its future staked on EVs, the EV6 GT will replace the Stinger as the company's flagship performance model. The Stinger Tribute Edition will be the last production model, and only 1,000 will be made for worldwide sale. For those of you as disappointed as Fiesta Kia's staff, 2023 models are still available, and it's beneficial to watch for CPOs.
Crossovers and SUVs for 2024
Of course, sport-utility vehicles and crossovers are currently the most popular vehicles in our country. Hence, Kia also offers a wide assortment of these types, including bvery appealing choices. All of them are made for casual commuting and family-friendly outings and don't deliver hard-core off-road capabilities. Instead, this group of autos focuses on luxury and comfort for the driver and passengers, with a respectable offering of comfort and convenience features. This list includes the following:
Soul – The smallest of Kia's crossovers, the Soul is energetic and fun to drive. It offers an offbeat, quirky design with a surprising amount of space and practicality. The base 4-cylinder engine delivers 147 horsepower and will surprise you with its peppy acceleration, but a 201-hp turbo-four option is available at all trim levels.
Seltos – The next trim up is the subcompact Seltos, which was introduced in 2019. It's a higher ride than the Soul, making it more SUV-like, and it, too, has a spacious interior with good cargo space. The base engine makes 146 hp, but the available turbo-four produces 186 hp and is noticeably punchier.
Niro – Offered as an all-electric, hybrid, or plug-in hybrid, the compact Kia Niro presents many advantages. It's practical, refined, money-saving, and modern. For a compact vehicle, it's pretty roomy, and its lowest fuel rating is 46 combined mpg!
Sportage – An ideal family vehicle, the stylish Sportage scores high on crashworthiness tests. It also comes with loads of driver-assist tech, cutting-edge infotainment, and an upscale interior.
Sorento – This midsize family SUV has three rows of seating and can carry up to seven passengers. The cabin is roomy and offers plenty of safety and infotainment features, including several connectivity points throughout the interior. It also comes in a hybrid version if you're trying to reduce your carbon footprint,
Telluride – Powered by a V6 engine, this full-size 8-seater is the epitome of luxury. It's won several awards and is one of the best SUVs you can get for the price. Although it performs best in urban and suburban surroundings, it's capable enough to take on tamer off-road paths.
Electric Selections
With a focus on the future, Kia has its sights set on fully-electric vehicles. So far, the first fully-electric offering, the EV6, introduced in 2022, has taken the automotive world by storm. It has a futuristic look, focusing on aerodynamics, and won the overall "Car of the Year" award from the UK's prestigious What Car? Awards.
Finally, the much-awaited EV9 full-size all-electric SUV is set to debut in 2024. Not much is known about its specs at this point, but it will reportedly be the electric equivalent of the Telluride.
Get a Closer Look
To see the entire lineup of incredible Kias, stop by Fiesta Kia at 7400 Lomas Blvd NE in Albuquerque or contact us through our website to learn more about the upcoming 2024 Kia vehicles near Rio Rancho, NM.