The 2024 Kia EV9 near Rio Rancho NM Shows off Impressive Features
The 2024 Kia EV9 near Rio Rancho NM will have three rows of seating and a solar panel in the hood. Its interior consists of environmentally friendly materials. Popping out of the dashboard is a futuristically designed steering wheel. Inside, the EV9 presents an elegant, clean style with soothing ambient lighting and space-age flair. You will be thrilled as you zoom around, producing zero emissions.
2024 Kia EV9 near Rio Rancho NM: Electric SUV
The brand-new 2024 Kia EV9 near Rio Rancho NM is a larger SUV with three rows of seating to accommodate up to seven passengers. Since it's an electric vehicle, Kia will utilize the interior space creating a more spacious interior without increasing the exterior size. It will offer all-wheel and rear-wheel drive based on the trim level. Kia will offer five EV9 trim levels ranging in price and features to meet all budgets and driving styles.
EV9 Features
You will notice the new 2024 Kia EV9 near Rio Rancho NM at first sight with its dramatic headlights and burly stylish in-your-face road presence. It has angled fenders, concealed door handles, and oversized glass panels, providing an unobstructed view of all three rows of passengers from the outside of the vehicle. The Kia EV9 will have a gigantic wide touchscreen display, an extended center floor console with cupholders and, a laptop storage pocket. It also offers a panoramic sunroof, an integrated wireless charging pad, smartphone storage compartments, slender air conditioning vents, and chic door panels with blue door handles. The sunroof offers various levels of transparency with Smart Glass. The Smart Glass feature lets passengers adjust the amount of light that shines through the sunroof into the cabin.
Battery and Charging
You can charge your Kia EV9 from about ten to eighty percent in around twenty to thirty minutes. The EV9 will come with advanced technology that will allow you to have tailgate parties, go on camping trips, and charge electronic devices all while away from home, and you can even power up your home when the power is out.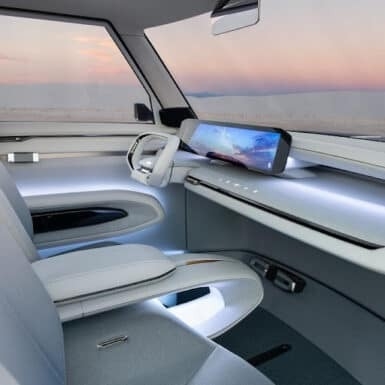 ​​​​​​​​​​​​​​
Fiesta Kia
Our Fiesta Kia team can't wait for the EV9 to arrive with its futuristic exterior and electrifying interior. The EV9 is expected to debut March 15th and start production sometime during the summer in Georgia. Our team is ready to help you with the pre-ordering process of your new EV9 if you can't find one that fits your needs. We can find an auto loan that suits your budget as we guide you through the buying process. Our service department has factory-trained technicians and innovative equipment and only uses genuine Kia parts. Our technicians are prepared to perform all manufacturer's recommended maintenance to keep your Kia EV9 running perfectly. For the most up-to-date information and inventory, please check out our website. Keep an eye open for updates on the release of the 2024 Kia EV9.