​​​​​​​Choose the 2023 Kia Telluride in Albuquerque, NM for a Posh Ride with Off-Road Chops
One of the most popular three-row SUVs currently on the market, the award-winning Kia Telluride, is the perfect vehicle for drivers who want a posh ride and a capable off-roader. The 2023 Kia Telluride in Albuquerque, NM is now on sale, and some thrilling new changes come with it.
Updated Design
Keeping American drivers in mind, the new Telluride has a more rugged appearance yet retains its stylish profile. Adorned with a vertical headlamp shape, LED lighting as standard, and available fog lights, the Telluride presents a gorgeous face. The grille, front bumper, and trim have also been remodeled, and every trim level gets fresh wheel designs.
A trio of new exterior paint colors is available for 2023 as well: Dawning Red, Jungle Wood Green, and Midnight Lake Blue. You'll also have new color packages offered for the interior, along with a revamped steering wheel and dash.
2023 Kia Telluride in Albuquerque, NM: Performance
A powerful 3.8-liter V6 direct-injection engine producing 291 horsepower and 262-lb-ft of torque gets you where you need to be, while the 8-speed transmission lets you select a specific Drive Mode to match the terrain you're traversing. Choose Eco, Comfort, Smart, and Sport to adapt your driving experience. Models equipped with AWD have extra settings for Snow and AWD Lock to allow the wheels more control in inclement weather conditions.
A new feature on the 2023 Telluride is Downhill Brake Control (DBC) which helps keep a constant and controlled speed when descending steep inclines.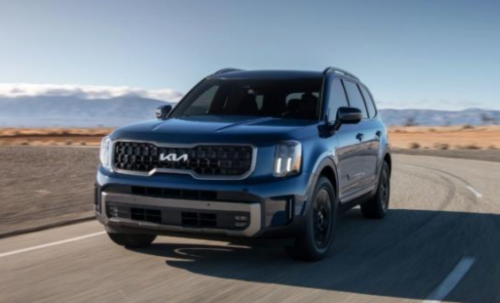 Two New Trim Levels
If you're especially interested in getting the most out of the Telluride's off-road chops, you should examine the two new trim options. The Telluride X-Line and Telluride X-Pro are AWD models offering exclusive additions and enhancements that you don't get on other trims.
The X-Line trim takes the place of the Telluride Nightfall Edition offered last year. It has unique 20-inch wheels, an exclusive grille design, roof rails, body-colored door handles, and "X-Line" badging. The front seats are embossed with "X-Line" on the upper backrest, and you can opt for exclusive color packages that are only available on this version. Higher ground clearance and extra choices for tow modes also come standard on the X-Line models.
Building off the X-Line, the Telluride X-Pro has its own exclusive elements. It showcases 18-inch black wheels wrapped in all-terrain tires for better performance off-road and special "X-Pro" badging. It also features an "X-Pro" embossed backrest on its front seats. Towing capacity is increased to 5,500 lbs, and a 110-volt inverter outlet comes standard in the cargo bed.
New Technology
Several new convenience, safety, and security technologies have been added to the 2023 Kia Telluride in Albuquerque, NM. On the convenience front, a larger navigation screen and new map and navigation features will help you arrive at your destination with less rerouting. The Telluride's Wi-Fi hotspot can now connect up to five devices to 4G LTE-based internet.
New security amenities include tracking for stolen vehicles, immobilization capability, and new means of locking and unlocking your new Telluride. Compatible smartphones can be programmed with digital keys and shared with family or friends, giving you an extra emergency "set of keys" if needed. The Kia Access app also offers options to use your smartphone for door locking/unlocking, remote climate control, and more.
Kia has always been a frontrunner with driver-assist technology, and the 2023 Telluride doesn't disappoint. It now offers more features than ever to help drivers and passengers stay safe while traveling. Two brand-new systems come standard, along with the generous number of systems already in place. Intelligent Speed Limit Assist (ISLA) recognizes speed limit signs, and Forward Collision-Avoidance (FCA) includes a new Junction Turning (FCA-JT) feature that detects oncoming vehicles when turning left at an intersection. It will apply the brakes if a collision seems imminent.
There are more available new features, including Navigation-based Smart Cruise Control-Curve (NSCC-C), Highway Driving Assist 2 (HDA 2), and various FCA options. HDA 2 can help maintain speed and distance between cars on the road and assist with lane changes.
Visit Us
As you can see, Kia has been busy making the 2023 Telluride better than ever! To get an up-close look and schedule a test drive, stop by the Kia dealership of Fiesta Kia at 7400 Lomas Blvd NE, Albuquerque, NM 87120.