Benefits of Buying a Used Kia near Santa Fe, NM
When you visit Fiesta Kia in Albuquerque, it's evident we have a stunning collection of new Kia models for sale. However, suppose you're looking for a used Kia near Santa Fe, NM. In that case, our dealership is also home to an assortment of impressive used and Certified Pre-Owned cars, SUVs, and crossovers. All of which come with remarkable style, safety, and technology. And there are several benefits to purchasing used instead of new.
Benefits You Can Depend On
Obviously, one of the more substantial benefits of buying a used car is the savings associated with it. The used vehicles for sale at Fiesta Kia naturally come with a lower price tag, and combined with monthly specials, you can bank on significant savings. But the advantages of buying used extend further than the money you'll save. For instance, you can upgrade to more premium trim levels at a more affordable price when you purchase used rather than new from our Kia dealership near Santa Fe. These higher trims bring more comfort, safety, and convenience features than the lower trim versions.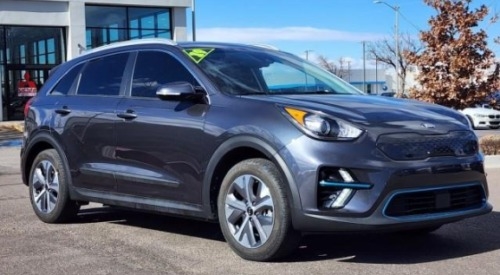 Selection is another perk of buying a used Kia near Santa Fe, NM. We stock our inventory with gently used Kia models at our dealership, including the Kia Telluride, Sportage, Sorento, and Seltos SUVs, as well as the Kia Rio, Forte, K5, and Soul. We can even acquire the sporty Stinger or the outstanding Carnival MPV if we don't have them in stock. These used Kias feature low miles; some even come with an active manufacturer's warranty. When you purchase a used car at Fiesta Kia, you'll get a brand-new-to-you model equipped with advanced technology, power, and safety.
With protection plans and extended warranties, you'll get the coverage you want when buying pre-owned Kias (or other brands) for sale on our lot. We can also enhance your shopping experience by providing used vehicle specials and searching for low interest rates on auto loans that lower your monthly payment.
Buying a Used Kia near Santa Fe, NM vs. Certified Pre-Owned
Every used vehicle at Fiesta Kia undergoes a rigorous inspection by the technicians in our Service Department, which means you will get a used car that meets strict guidelines that always comes with a vehicle history report. But there is a noted difference between used and Certified Pre-Owned vehicles.
Even though our used cars are thoroughly inspected, they are priced lower than Certified Pre-Owned vehicles because they aren't required to meet the more stringent standards of the CPO program. In other words, the basic used car can be a bit older or may have higher mileage than their CPO counterparts. CPO vehicles must have fewer than 75,000 miles, pass a 100+ multi-point inspection, and not exceed six years from the current model year. You also get the added benefit of roadside assistance and a limited powertrain warranty with a CPO vehicle.
Check Out our Used Kias
Come take a peek at all the new Kia models on our lot, but don't forget about the benefits of buying a used Kia near Santa Fe, NM. Stop by the Kia dealer at 7400 Lomas Blvd NE, Albuquerque, NM 87110, to view them up close and take one for a test drive today!