​​​​​​​​​​​​​​2024 Kia Seltos in Albuquerque NM: Upgrades
The new 2024 Kia Seltos in Albuquerque NM is designed with improved traction to remain in control in various conditions. It also presents a luxurious interior, gallant design elements, and innovative features. Not only do you get a luxurious interior, but it also has a spacious cabin to accommodate up to five passengers comfortably.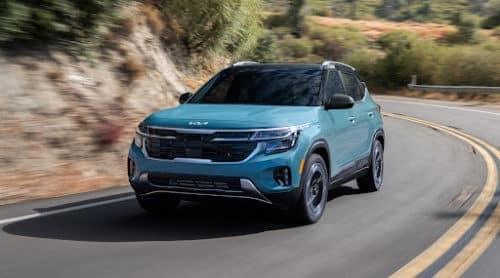 2024 Kia Seltos in Albuquerque NM: Enhancements
In the sleek new 2024 Kia Seltos in Albuquerque NM, you will notice additional interior space and cargo area than most other comparable SUVs. It has a quieter ride with its re-engineered sound-absorbing windshield. To ensure all devices are always ready, the Kia Seltos comes with standard USB-C fast charging ports in the front and back seats.
Available Features
The 2024 Kia Seltos in Albuquerque NM offers a huge Driver-centric Dual Panoramic Display that provides an instinctive touchscreen. Other available features are heated and ventilated front seats and a power tailgate, making loading and unloading easy. To customize your Seltos, you can add a premium audio system with a digital amplifier, wireless charging, and Digital Key.
Seltos SX
In the 2023 Kia Seltos SX, you get a powerful turbocharged engine, eighteen-inch wheels, and Smart Cruise Control with Stop & Go. It also comes with All-Wheel Drive, which improves traction and control. Plus, utility roof rails allow you to bring luggage, gear, hiking equipment, and more.
Seltos Safety
Since safety is essential, the 2024 Kia Seltos comes with Forward Collision-Avoidance Assist Technologies and Pedestrian and Cyclist Detection that can apply the brakes to avoid an accident. It also comes with a Blind-Spot Collision Warning system which signals if someone is in your blind spot.
You can also add Junction Turning Assist, which detects oncoming vehicles when you turn left in an intersection. Rear Cross-Traffic Collision-Avoidance Assist can detect objects when in reverse with an alert. Stop & Go Cruise Control maintains a set distance from the car ahead of you by adjusting your speed. It can also apply brakes to stop your Seltos if necessary.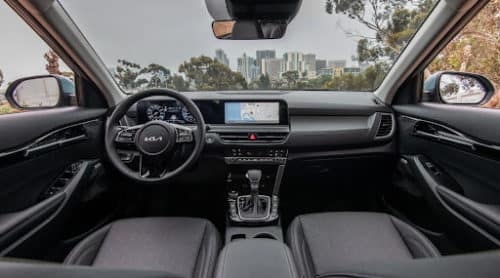 Fiesta Kia
Our team of professionals is knowledgeable about the new 2024 Kia Seltos and is prepared to answer all your questions. So, if you are ready for the most innovative, sophisticated SUV, come by Fiesta Kia and check out the new Seltos. We can assist you with sorting through the trim levels, colors, features, and engine options if you want to special order a Seltos that fits your needs perfectly. You can sign up to receive updates as it progresses through production until it is released in the spring of 2023.
Our Fiesta Kia team appreciates the opportunity to assist our Albuquerque customers and surrounding areas with all their car buying and servicing needs. We expect to build lasting relationships where you continue coming back to have your Seltos serviced.
We look forward to you dropping by the Kia dealer of Fiesta Kia to cruise through our showroom at 7400 Lomas Blvd. NE Albuquerque, NM, 87120. We would love for you to stop in and meet our expertly trained staff. We are confident you won't be disappointed in your Fiesta Kia experience.